European Association for Biometrics
The EAB is a non-profit organization seeking to advance the proper and beneficial use of biometrics in Europe, taking into account the interests of European citizens, industries, academia and governments.
The European Association for Biometrics (EAB) is the primary European multi stakeholder platform for biometrics.
The EAB targets its activities at the following areas of interest:
Communication and community building
Training and education
Research and programme development
The EAB engages stakeholders from all European countries including the European Commission and the European Parliament, by establishing a pan European network of national contacts points and platforms and by providing a program that appeals to common needs.
The EAB is committed to contribute to the development of technologies and services that ensure safety, security, interoperability and the protection of human rights, including the right to privacy.
EAB Position Paper on the Realease of Apple's iPhone 5S
The European Association for Biometrics EAB together with its Advisory Council EABAC drafted a statement on the proper use of biometrics in mobile devices. EAB seeks to offer the suppliers of mobile devices, service operators and the user a perspective on how to assess this kind of technology – and in particular its security and usability.
Please find the position paper of EAB "iPhone 5S: heralding a paradigm shift?" in our Document's section.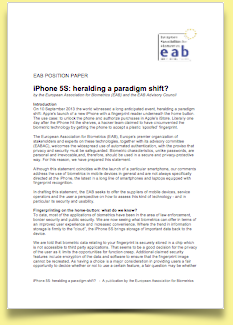 New Working Group: Biometrics in Mobile Applications
Recent technological advancements, in particular associated to the widespread use of mobile devices such as smartphones and tablet PCs are opening a new era towards the digitalization of our society.
Within this context, mobile devices are not just representing a pervasively available access to information, moreover completely new categories of applications, services and communication methods are rapidly emerging and thus changing the ways people are interacting – professionally as well as personally.
Biometric verification and identification methods can be a supporting factor in every field of application that requires assured identities. Thus, biometrics for mobile applications will also play an important role to the security of each individual in a fast changing society.
Find more information and how you could contribute in the Working Group Description
New Working Group: Forensic Biometrics
Forensic science is one of the important end-users of biometric technology. However, forensic biometrics is a fragmented area. The elements necessary to develop and implement new products and services are in the hands of different entities that are not necessarily partners yet: the forensic data are collected in the public sector, the products and services are offered by the private sector and new forensic biometric technologies and scenarios emerge within the academic sector. The mission of this new working group is to develop joint activities with forensic, academic and industry partners in Europe.
Find more information and how you could contribute in the Working Group Description