Winners of the 8th European Biometrics Research Award
On 10 September 2014 the jury of the 8th European Biometrics Research and Industry Award has selected the three laureates of the 2014 edition of this prestigious competition. In front of the international jury the following results are announced:
The winner of the European Biometrics Research Award is Laurent El Shafey from the Idiap Research Institute (Switzerland) for his thesis Scalable Probabilistic Models: Applied to Face Identification in the Wild.

The European Biometrics Industry Award is granted to Marcos Martinez Diaz from the Universidad Autonoma de Madrid (Spain) for his study Graphical Password-based User Authentication with Free-form Doodles.

The Honorary Certificate has been provided to Štěpán Mráček from the Brno University of Technology (Czech Republic) for his thesis 3D face recognition based on the hierarchical score-level fusion classifiers.
Patrizio Campisi, Chairman of the award and full professor at the Department of Applied Electronics at the Università degli Studi "Roma TRE" (Rome, Italy) says about the 2014 edition: "It is great to see so such high level presentations and excellent motivations by the three finalists. This benefits the dynamics and quality of biometrics research in Europe."
All three finalists have been awarded with a complementary one year EAB membership. In addition, the winner of the European Biometric Research Award 2014 as well as the winner of the European Biometric Industry Award 2014 received a commemorative certificate and a 2.000,00 € prize each. The winners were selected by all attending Jury members and EAB industry members. The awards are kindly sponsored by Morpho (Safran Group).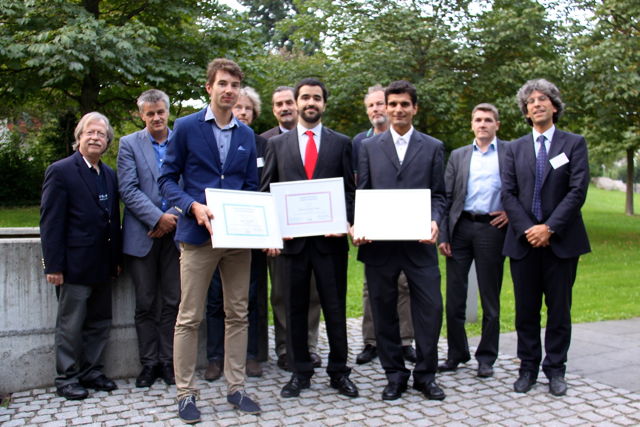 Jean-Christoph Fondeur, VP, Research & Technology at Morpho, says: "This award leverages European research on biometrics to an international level. At Morpho we are happy and honoured to support this unique event, because we are convinced that our society will benefit from scientific advances derived from state of the art research. The European Biometrics Research and Industry Awards is unique in its kind and we are motivated to continue contributing to its further growth and success."