Winners of the 6th European Biometrics Research Award
The European Association for Biometrics (EAB) was founded in November 2011 as Non-profit association by European Stakeholders representing industry, governmental agencies and academia. Its goal is to the proper and beneficial use of biometrics in Europe and to provide a platform to exchange un-biased information on biometric technology and applications. Now with more than 70 members the EAB has established a persistent network for information sharing amongst governments, European institutions, vendors, end users, researchers and academia. It serves not only as a competence pool of experts in biometrics in Europe but also represents the community before high ranking policy makers in the European Union. A number of events are organized and co-organized by the EAB, since the associations operates as an umbrella for national Biometric Groups. Furthermore, EAB is home for special interest groups (e.g. Industry SIG, Operator SIG, Academia SIG) and hosts various technical committees (Training and Education, Testing and Evaluation, Ethics and Privacy). A core objective is also to support research and innovation with the European Research and Industry Award.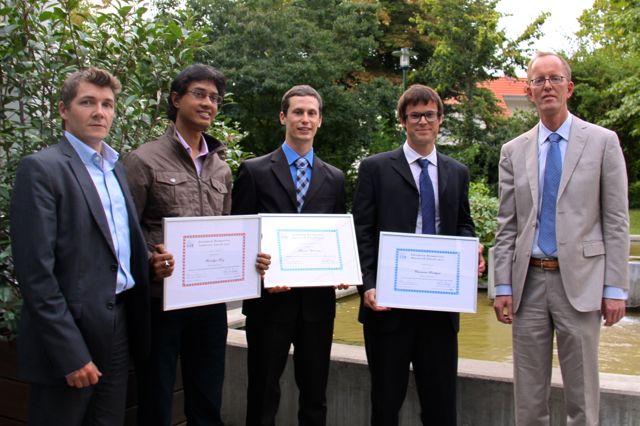 On September 5, 2012 the European Association for Biometrics awarded young researchers for their outstanding works in the area of biometrics. A renowned jury chose 3 candidates out of a range submitted high quality papers to present their significant contribution in front of the jury, the EAB members and the public audience.
This years finalist were:
Christian Rathgeb from University of Salzburg with
Towards enhancing security and accuracy of iris recognition systems
Anindya Roy from Idiap Institute with
A fast parts-based approach to speaker verification using boosted slice classifiers
Daniel Hartung from Gjøvik University College with
Template protected vascular patterns for secure online banking transactions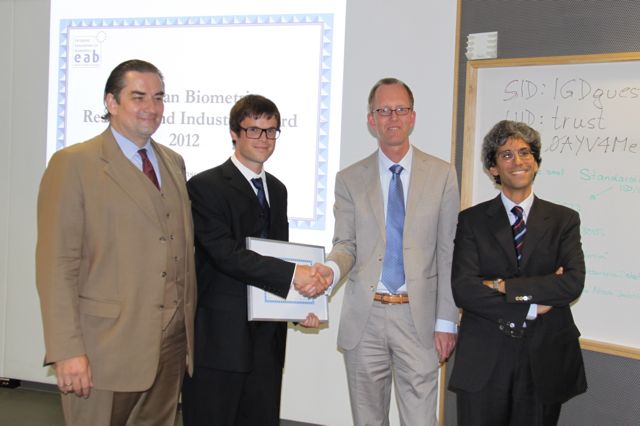 The 6th European Biometrics Research Award that was kindly sponsored with a prize of 2,000.00 € by GenKey Europe went to Christian Rathgeb from the University of Salzburg, Austria. The selection has been made on the basis of the academic and scientific quality of the submitted works as well as on the quality of their presentations. A separate selection was made during the final presentation in order to appoint the winner of the industry award. Criteria for this award are (next to the scientific level) the novelty, impact, applicability and other business aspects. The European Biometrics Industry Award 2012 has been given to Anindyo Roy from Idiap Institute (Switzerland) and was awarded by Safran Morpho with a prize of another 2,000.00 €.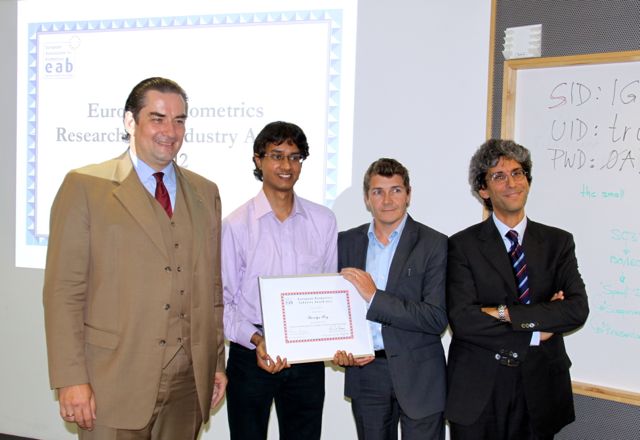 The chairman of the jury, Prof. Patrizio Campisi from the University of Roma TRE (Italy), says about this year's competition: "I am happy that again the jury had a choice out of a range of submissions of very high quality. This prestigious award, which is unique in its kind, stimulates innovation in high level research in biometrics both in academia and in industry. I am grateful to the members of the jury, who did an excellent job by spending their precious time to the selection process."