European Biometrics Awards 2020
On 16 September 2020 the European Association for Biometrics (EAB) awarded young researchers for their outstanding works in the area of biometrics. An international jury chose 3 candidates out of a broad range of submitted high quality papers to present their significant contribution in front of the jury, the EAB members and the public audience in a virtual meeting.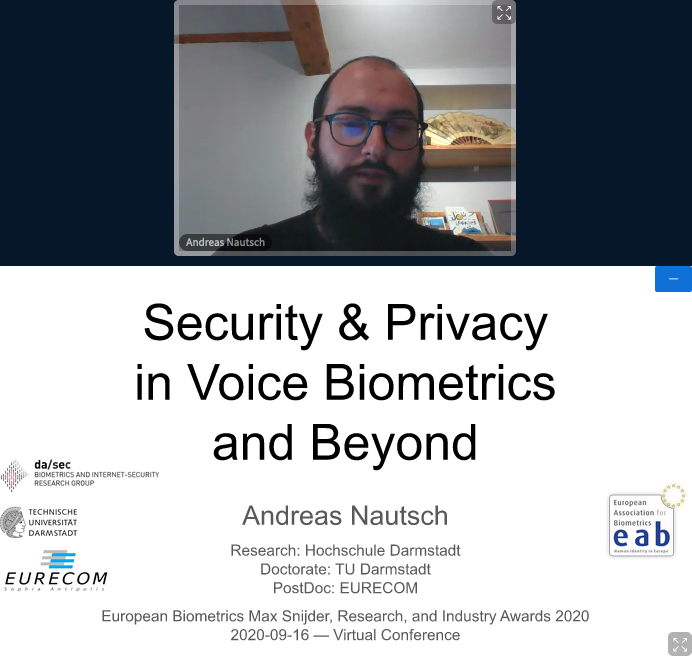 European Biometric Max Snijder Award
In 2020 for the second time the EAB Max Snijder Award is granted to a researcher, who expressed through his work a wider perspective to get a broader picture on biometric applications. The winner of this award is Andreas Nautsch, who who conducted his PhD project at Hochschule Darmstadt/TechnicalUniversity of Darmstadt (Germany), and presented the topic of Security & Privacy in Voice Biometrics and Beyond. A holistic perspective was presented for: better decision making compensating for changing signal quality; voice presentation attack detection; privacy-preserving likelihood ratio computation using Paillier homomorphic encryption and secure two-party computation, and the interrelation of performance evaluation paradigms in biometrics standardisation and forensic sciences. These, whilst directly leading to new metrics in international research challenges on security and on privacy for speech data, are also put in the bigger picture: interdisciplinary research including speech, legal, cryptography and biometric experts.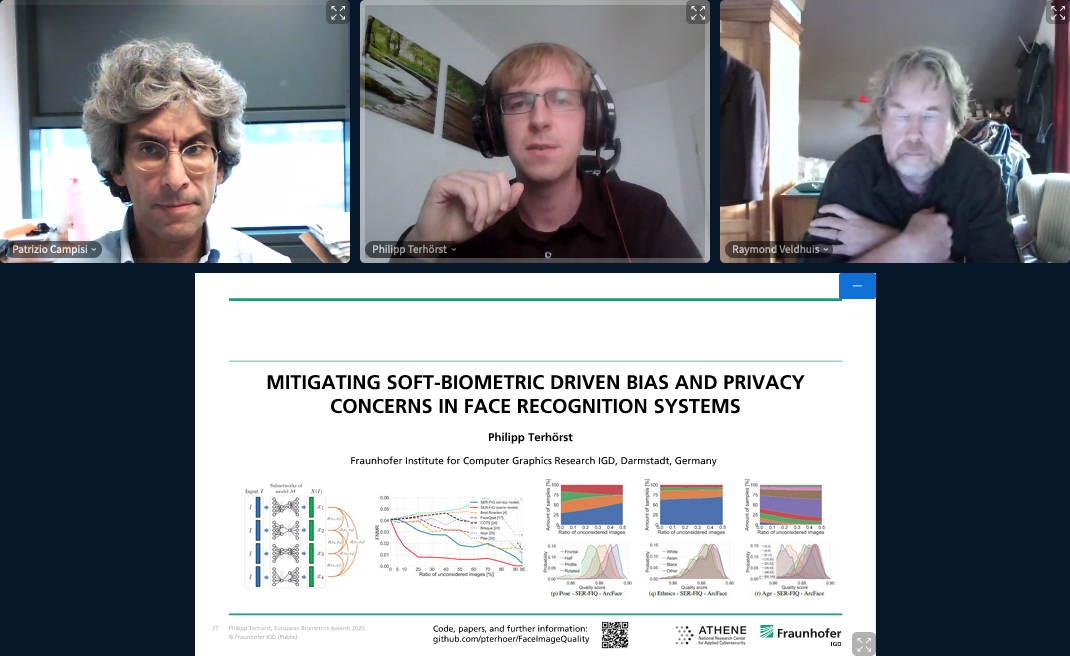 European Biometric Industry Award
This year the European Biometrics Industry Award goes to Philipp Terhörst from Fraunhofer IGD, (Germany) for his work Mitigating Soft-Biometric driven Bias and Privacy Concerns in Face Recognition Systems. During the final he focused on high-performance of current face recognition systems is driven by the advances in extracting deeply-learned feature representations of face images. However, the success of these templates came at the cost of two major discriminatory concerns: First, many biometric solutions are built on representation-learning strategies that optimize total recognition performance. This often leads to a discriminatory recognition performance depended on the user's demographics. Second, the deeply-learned template of an individual contains more information than the individual's identity, such demographics and health status. Since for many applications, the templates are expected to be used for recognition only, this raises major privacy issues. This work analyses these problems and proposes easily-integrable solutions to effectively mitigate both concerns.
With his outstanding presentation during the introduction to their works, Philipp Terhörst was also awarded the Best Presentation Award.
European Biometric Research Award
The European Biometrics Research Award 2020 was granted to Gabriel Emile Hine from Roma Tre University (Italy) for his PhD-thesis A Zero-leakage and indistinguishable Auxiliary data representation for Biometric Cryptosystems.
In his PhD, Gabriel developed techniques that enable to use biometric traits for authentication in an anonymous manner. The basic idea behind anonymous biometrics is to not use biometric samples themselves as identifiers, but rather bind the biometric trait with a pseudonymous identifier that acts as the authenticator. With this aim, he proposed a novel biometric cryptosystem obtaining perfect security, that is not leaking any useful information from the stored auxiliary data. The proposed system ensures indistinguishability as well, meaning that the system is able to produce multiple identifiers from the same biometric trait that are indistinguishable from identifiers originated by independent users.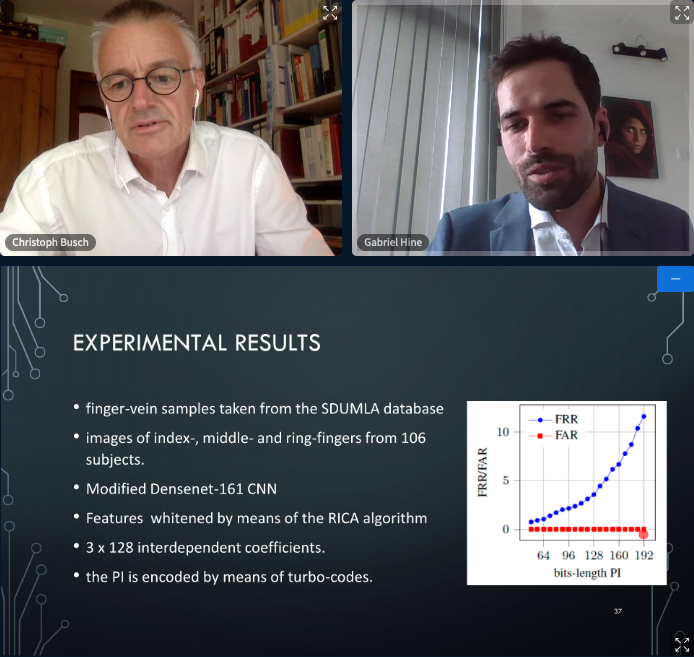 The European Biometrics Max Snijder, Research, and Industry Awards have in total a value of 4.000,00 € stipendium, which is divided amongst the winners. The finalists are also donated a free of charge one year membership of EAB. The European Biometric Research and Industry Awards 2020 were kindly sponsored by IDEMIA and MYMARQ.
The selection for the research award has been made on the basis of the academic and scientific quality of the submitted works as well as on the quality of their presentations. A separate selection was made during the final presentation in order to appoint the winner of the industry award. Criteria for this award are next to the scientific level the novelty, impact, applicability and other business aspects.
The European Biometrics Max Snijder, Research, and Industry Awards are granted annually to individuals who have been judged by a panel of internationally respected experts to be making a significant contribution to the field of biometrics research in Europe. The intention of the award is to stimulate and promote innovation and research in the field of Identity and Biometrics in Europe.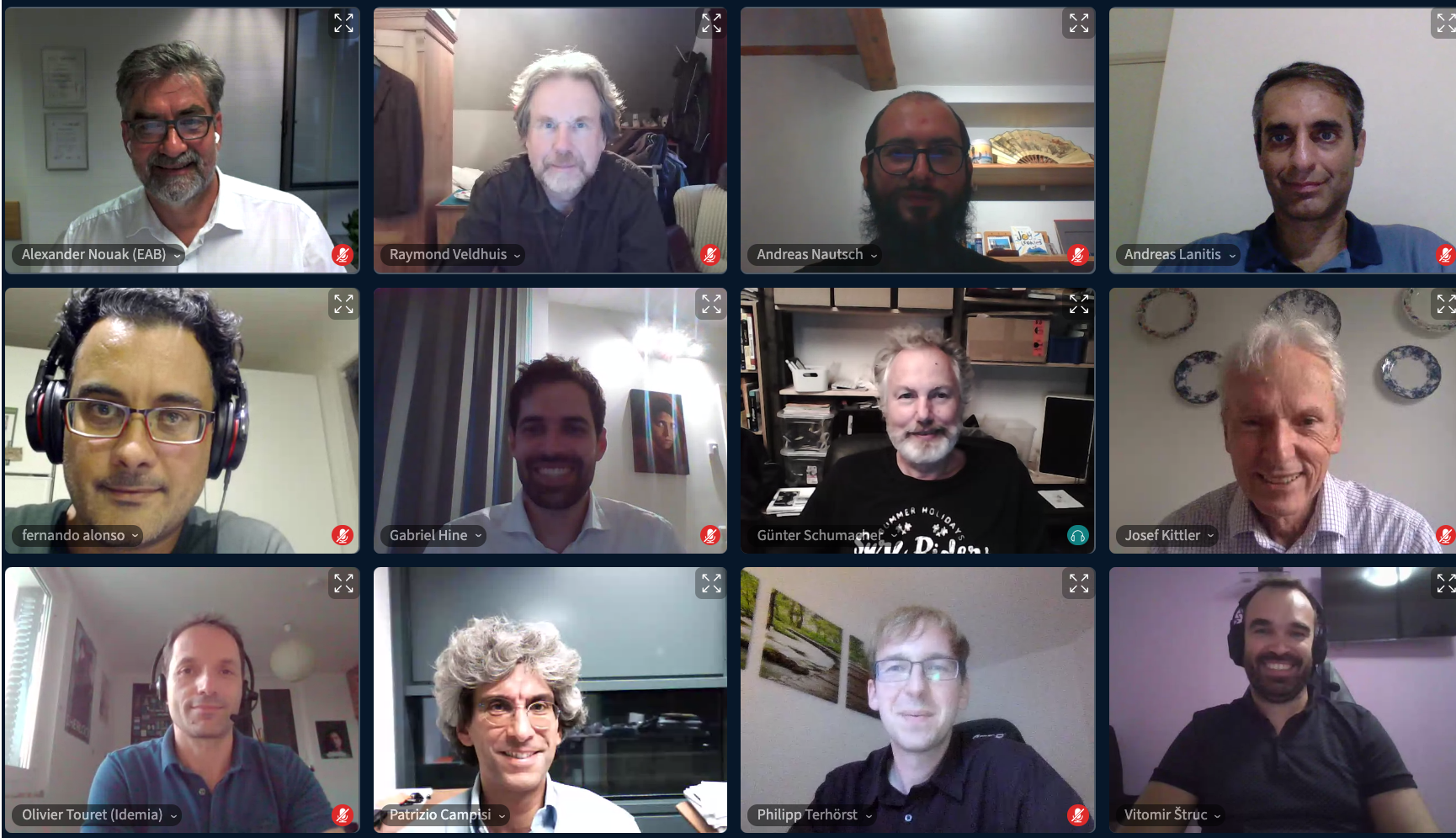 EAB members can find the thesis of the award winners in the Hall of Fame
The call for submissions for the EAB European Biometrics Awards 2021 is already available.