Winners of the 7th European Biometrics Research Award
On 4 September 2013 the European Association for Biometrics (EAB) awarded young researchers for their outstanding works in the area of biometrics. An international jury chose 3 candidates out of a broad range of submitted high quality papers to present their significant contribution in front of the jury, the EAB members and the public audience.
The European Biometrics Research Award 2013 has been given to Finnian Kelly from Trinity College Dublin, Ireland for his thesis titled Eigenageing Compensation for Speaker Verification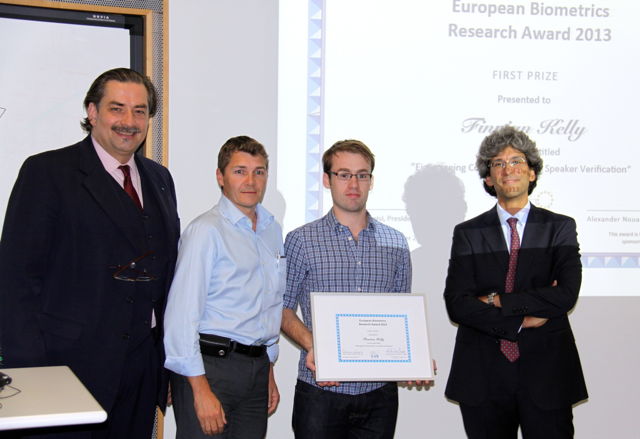 This years European Biometrics Industry Award goes to Peter Wild from The University of Salzburg, Austria for the thesis titled On Enhancing Accuracy and Performance of Iris Biometric Systems in Surveillance.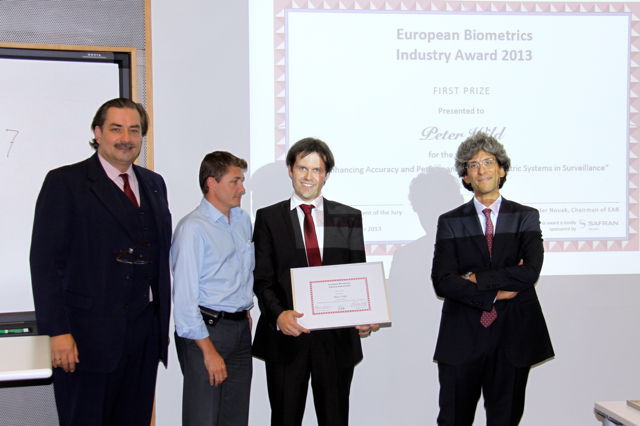 Special honours were given by the jury to finalist Huibin Li from Ecole Centrale de Lyon, France for his contribution titled Towards 3D Face Recognition in the Real: A Registration Free Approach based on Discrete Differential Geometry and Statistical Learning.
The European Research and Industry Awards are both honoured with a 2.000,- € stipendium for each category. In addition to that the winning papers will be presented at the exhibition of the IDWorld 2013 event in Frankfurt, Germany on 5-7 November 2013. The finalists are also donated a free of charge one year membership of EAB.
The selection for the research award has been made on the basis of the academic and scientific quality of the submitted works as well as on the quality of their presentations. A separate selection was made during the final presentation in order to appoint the winner of the industry award. Criteria for this award are next to the scientific level the novelty, impact, applicability and other business aspects.
The European Biometrics Research and Industry Award is granted annually to individuals who have been judged by a panel of internationally respected experts to be making a significant contribution to the field of biometrics research in Europe. The intention of the award is to stimulate innovation in academic research as well as in industry.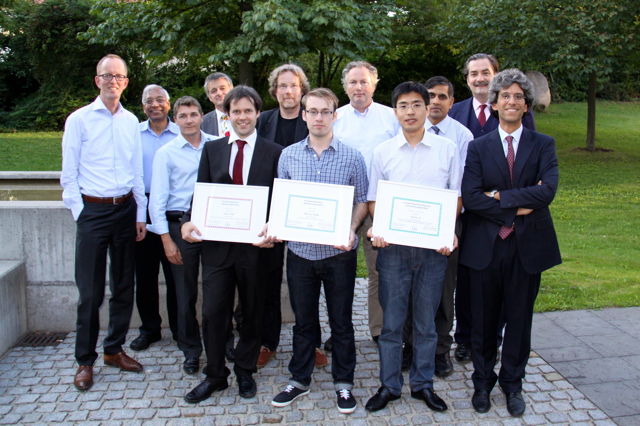 Prof. Patrizio Campisi, chairman of this prestigious award, says: "Biometrics are rapidly becoming an essential part of modern ICT infrastructure. Therefore I am very happy that this year we have seen a significant increase in the quality and quantity of submissions. It proves that these awards is clearly reflecting the current developments and with that they are directly contributing to the dynamics of the European research community on biometrics."
Jean-Christoph Fondeur, representing this years award sponsor Safran Morpho says: "As a global biometric market leader based in Europe, Morpho is happy to support the EAB Biometric Research & Industry Awards. These awards recognize the work of the best academic researchers. Collaboration with academia is a key factor for the success of the European biometric industry and Morpho has a long history of fruitful relationships with academic research organizations."